Since 2011, the Blue Flag flies over the tourist port of Marina Dorica making us very proud of this award!
The FEE (Foundation for Environmental Education) has assigned the Blue Flag to our coastal locality because it fulfills the requirements of quality standards regarding the parameters of bathing waters and services offered, considering that the marina ensures the cleanliness of the water next to the ports and the absence of sewage.
The Blue Flag is an award of environmental quality for a harbour such as ours, especially committed to environmental management, in terms of respecting the local environment and nature, and furthermore by providing its users information regarding environmental issues.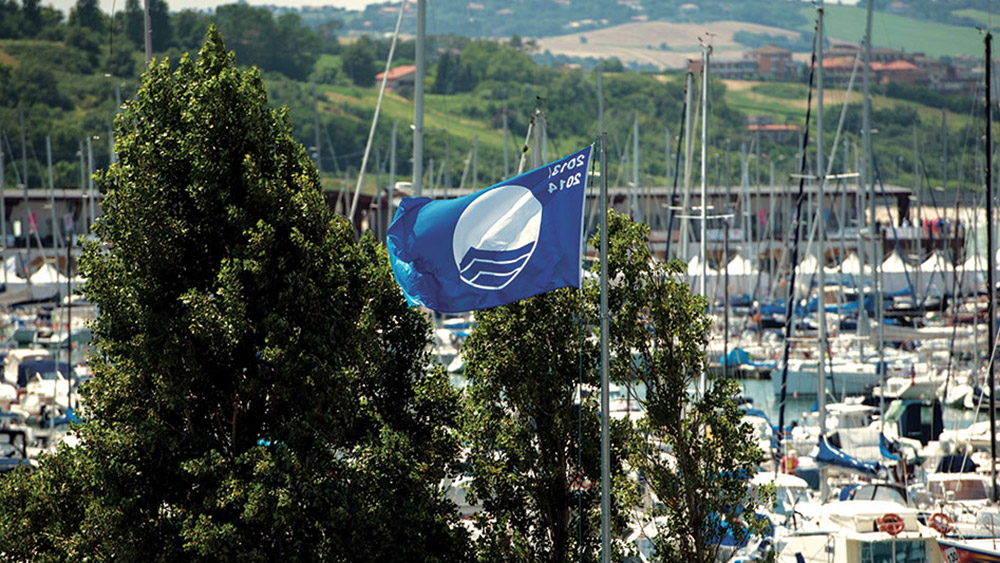 Therefore, please follow the instructions of Marina Dorica's Code of Conduct:
Code of Conduct
Aware that the sea has always been to us a source of civilization, environmental wealth and balance. I commit myself to the following behaviours:
I will not throw garbage into the sea or along the coast;
I will not release waste water into the sea, in coastal waters or sensitive areas;
I will not release poisonous or toxic waste (oil, paint, used batteries, cleaning agents, etc.) into the sea but I will safely dispose of these wastes in containers provided in the marina/harbour;
I will promote and use recycling facilities (glass, paper, etc.);
I will use the most environmentally-friendly products (paints, antifoulings, paint remover, detergents, chemicals, etc.) available;
I will instantly report pollution or other violations of environmental regulations to the authorities;
I will not use illegal fishing practices and I will respect periods when fishing is prohibited;
I will protect animals and plants in the sea;
I will respect sensitive and natural protected areas;
I will avoid anchoring in sensitive areas;
I will avoid disturbing fishery or fishing gear;
I will be respectful and considerate to other people and the environment;
I will not buy or use objects made from protected/endangered species or from archaeological underwater findings;
I will encourage other sailors to take care of the environment.
Individual boat owners who hand in a signed Code of Conduct to the Marina management will receive a Blue Flag to be displayed on their boats. Should it not be available at the Marina, a Blue Flag can be requested at FEE Italia, Via Tronto, 20, 00198 Roma.
---