OWNERSHIP AND MANAGEMENT
Consorzio Vanvitelli SpA has participated to the construction of the port and is the main shareholder of La Marina Dorica SpA. The Consortium is formed by nine Yacht Clubs and a number of businesses operating in the sector.
Other shareholders include public entities, mainly the Municipality of Ancona and, with a minority share, the Chamber of Commerce of Ancona, as well as Nautiservice Srl, a private operator.
Marina Dorica SpA's mixed corporate structure is a peculiarity of the company and its management has always been collegial, balancing interests and shared intents among shareholders.
MARINA DORICA S.p.A. SHAREHOLDERS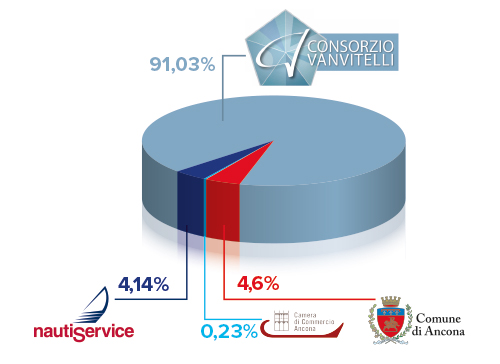 MEMBERS OF THE BOARD OF DIRECTORS
Leonardo Zuccaro Chairperson – Declaration
Gianfranco Iacobone Vice-Chairperson
Guido Guidi Board Member – Declaration
Galliano Ippoliti Board Member
Luigi Lanari Board Member
Ennio Molinelli Board Member
Federico Pelosi Board Member
MEMBERS OF THE BOARD OF AUDITORS
Luigi Scoponi Statutory Auditor
Paolo Di Paolo Alternate Auditor
Gianluigi Gentili Alternate Auditor
Danilo Bartozzi Alternate Auditor
Lorenzo Sabbatini Alternate Auditor
DIRECTOR