Thanks to its privileged position, Marina Dorica, the marina of the city of Ancona, capital of the Marche region, can be easily reached by land. In fact, Marina Dorica can be reached by plane, by train, and by car.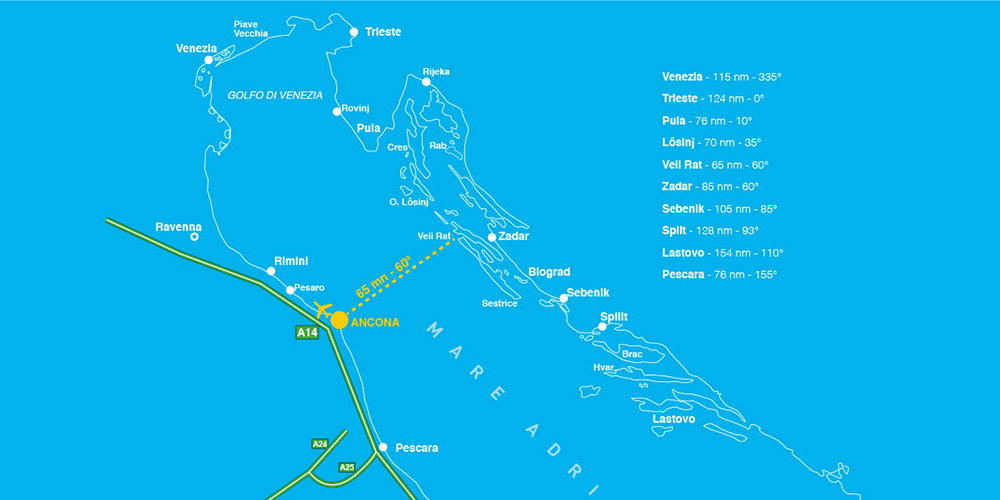 BY PLANE
International airport Ancona Falconara is just 15 km from the city, reachable via direct train from Castelferretti Station located right next to the airport. From the airport you can also catch a bus or shuttle service from outside the Arrivals and Departures Terminal (tickets are sold inside the airport). The route terminates at Ancona's train station. Info and Times (train and bus connections):
Info and Times: www.marcheairport.com
BY CAR
If you are arriving by car, on the A14 Adriatic motorway there are two exits for the city: Ancona Nord and Ancona Sud. When you exit the motorway, Marina Dorica is about 15 minutes away.
BY TRAIN
Ancona's train station (reachable in just over 3 hours from Milan and Rome), part of the Adriatic rail network that stretches from the north to the south of the country, is in Piazza Rosselli, just a few steps away from the city centre and the port.
Info and Times: www.trenitalia.com
BY SEA