Marina Dorica is the result of a collaboration between three different corporate members: a public one, mainly represented by the Comune di Ancona (Municipality of Ancona) (and to a lesser degree the Camera di Commercio (Chamber of Commerce), two private partners represented by a local Nautical Operator (Nautiservice srl – Ancona) and by a consortium of eight Yacht Clubs and other operators of the sector (Consorzio Vanvitelli SpA).
Consorzio Vanvitelli, having contributed in greater measure to the realisation of the works, holds the majority of the shares but the corporate management has always been collegial, with a remarkable balance between the interests and intentions of its shareholders.
SHAREHOLDING MARINA DORICA S.p.A.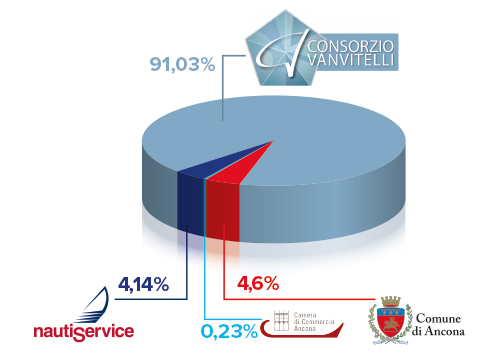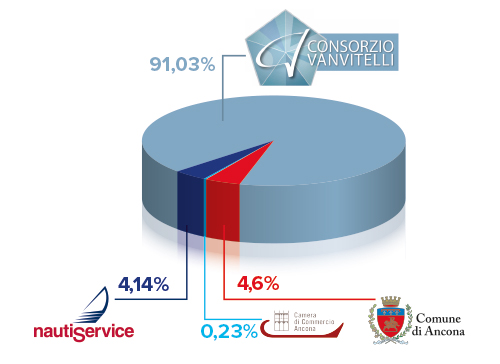 MEMBERS OF THE BOARD OF DIRECTORS
Moreno Clementi Chairman of the Board
Silverio Dorsi Vice-Chairman
Nicola Basti Council Member
Michele Covotta Council Member
Giuseppe Mascino Council Member
Paolo Manarini Council Member
Michele Pietrucci Council Member
MEMBERS OF THE BOARD OF AUDITORS
Romano De Angelis Presidente
Danilo Fongoni Statuatory Auditor
Leonardo Gentile Statuatory Auditor
MANAGEMENT
---